Dr. McCullough speaks about vaccine safety, efficacy, and the continued need for early treatment.
Peter McCullough, MD, MPH speaks at the 78th Annual Meeting of AAPS on October 2, 2021.
Presentation notes:
1min: Something was going very wrong very early in 2019.
2m: The threshold for shutting down a new biologic product is just a few cases.
3m: Covid-19 was going to be the showcase of what we could do for biotech.
5m: The spike protein created by the new Covid-19 is a deadly protein.
11m: Our institutions are all culpable in medical malfeasance.
13m: We have the biggest biological catastrophe on our hands with a medicinal product in human history…and no-one knows how to stop it.
List of risk
14m: 86% of deaths have no other explanation other than the vaccines.
20m: We are in freefall into a lawless state. The Vaccines are not safe for use on either side of the Atlantic. It's clear that this first generation of [Covid-19] vaccines is not safe.
22m: The FDA did not approve Pfizer. The gave a continuation of the emergency use authorization and then conditionally approved Comirnaty with BioNTech which is legally and potentially medicinally distinct. The Pfizer approval is a false talking point.
23m: When Pfizer came up for boosters, McCullough and his team presented at the FDA showing that death with the vaccine is greater than death just taking your chances with the infection. The vaccines aren't safe across the board and the panel agreed 16:2 against the booster.
26m: Data for the efficacy of the vaccines do not take into account the Delta variant. These vaccines have failed against Delta and other variants. Two-thirds who get sick with Delta are fully vaccinated. Data shows that the vaccines can't stop transmission.
27m: Effectiveness for Pfizer is at 42%. A vaccine that falls below 50% protection and can't last a year is not a viable product. Pfizer has failed as a commercial product.
29m: The CDC was telling us in May 2021 that the vaccines were failing. They started to do asymmetric reporting to craft a narrative that this was going to be a crisis of the unvaccinated but the CDC data showed the opposite. The ineptitude and willful misconduct of the people running our public health agencies is astounding.
32m: The '99% of hospitalized were unvaccinated' message was a propagandized false talking point because the data is not there.
33m: The vaccines have had zero impact on the epidemic curve. Mortality is a function of treatment.
34m: Many experts have been warning that we shouldn't vaccinate into a pandemic because it creates resistance. As soon as we started vaccinating, the number of strains starting falling. The virus was figuring out how to thrive in the vaccinated.
36m: The Delta variant has achieved antigenic escape. The data shows that the vaccinated is an equal threat to the unvaccinated.
38m: Early home treatment is the only thing that makes sense. That's what it should have always been.
40m: Doctors at my institution cannot look me in the eye because they are so ashamed of what they've done during the course of this pandemic.
44m: If you look through the clinical records [of those who have died] and I will tell you they were all inadequately treated.
50m: Natural immunity is superior to vaccine immunity. If we vaccinate people who are covid-recovered, we harm them considerably. The only backstop is natural immunity.
File download:
A Guide to Home-Based COVID Treatment from the Association of American Physicians and Surgeons – PDF (1.4MiB)
Slides: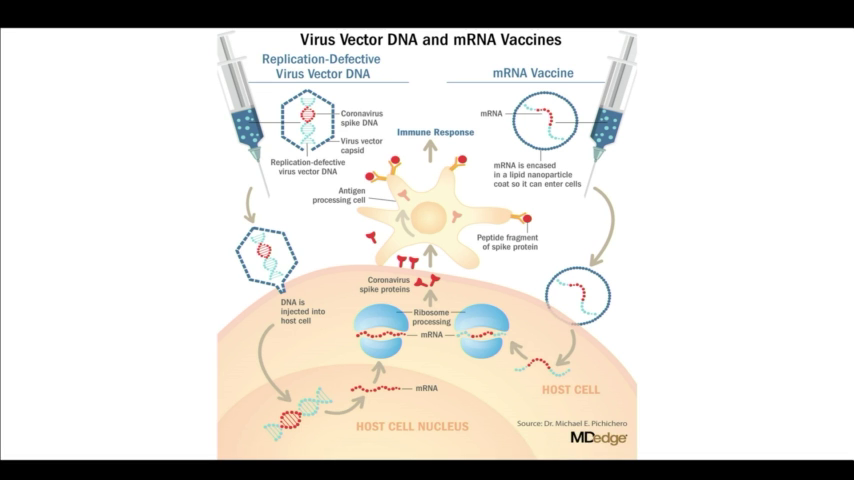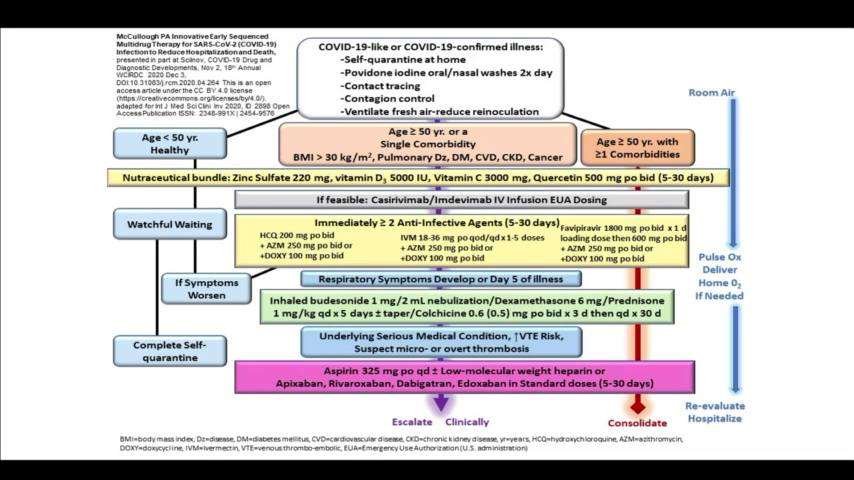 https://rumble.com/vnbv86-winning-the-war-against-therapeutic-nihilism-and-trusted-treatments-vs-unte.html
Backup mirrors:
Mask facts from The Association of American Physicians and Surgeons:
Conclusion: Wearing masks will not reduce SARS-CoV-2.N95 masks protect health care workers, but are not recommended for source control transmission.
Surgical masks are better than cloth but not very efficient at preventing emissions from infected patients.
Cloth masks will be ineffective at preventing SARS-CoV-2 transmission, whether worn as source control or as personal protective equipment (PPE).
Known patients infected with SARS-CoV-2 wore masks and coughed into a Petrie dish. "Both surgical and cotton masks seem to be ineffective in preventing the dissemination of SARS–CoV-2 from the coughs of patients with COVID-19 to the environment and external mask surface."
Medical masks offered no protection at all from influenza.
The wide use of masks by healthy people in the community setting is not supported by current evidence and carries uncertainties and critical risks.
If you are sick, stay home!