According to government guidelines, the public will be asked to provide their names and phone numbers to the venues and businesses they visit from Saturday 4th July 2020.
Be aware that this is done on a voluntary basis. You are under no legal obligation to leave your details or provide correct information. The business should not refuse to serve you if you do not wish to provide your information.
The relevant section of the government guidelines is shown below.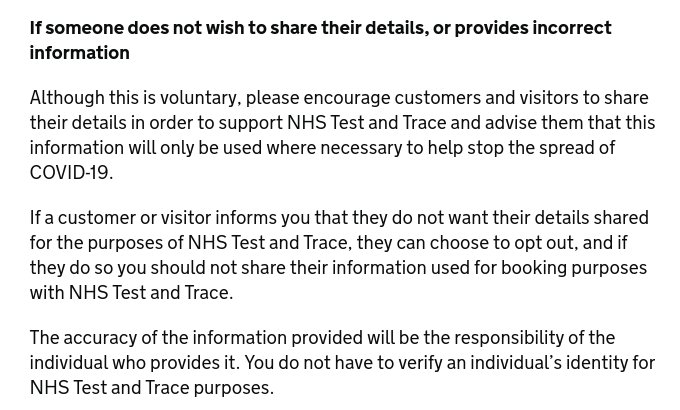 The complete text for the guidelines can be found in a document that can be downloaded from the GOV.UK website: Maintaining records of staff, customers and visitors to support NHS Test and Trace
Information collected
If you choose to provide information as a customer, government guidelines state that only the following details should be collected:
The name of the customer or visitor. If there is more than one person, then you can record the name of the 'lead member' of the group and the number of people in the group.
A contact phone number for each customer or visitor, or for the lead member of a group of people.
Date of visit, arrival time and, where possible, departure time.
If a customer will interact with only one member of staff (e.g. a hairdresser), the name of the assigned staff member should be recorded alongside the name of the customer.
Booking and reservation information
The information you provide when making a booking or reservation may be shared with NHS Test and Trace. If you do not wish your details to be used for this purpose, you should inform the business that you wish to opt out of NHS Test and Trace.
General Data Protection Regulation (GDPR)
NHS Test and Trace is subject to GDPR. This means that the business is legally obliged to handle your details in accordance with the regulation. However, be aware that under GDPR, the business is not required to:
Individually inform customers about how their information will be used.
Seek consent to collect data from individual customers.
If in doubt, make sure you explicitly inform management that you are opting out and any details you provide should not be used for NHS Test and Trace.
Why you should opt out of NHS Test and Trace
While we cannot give you advice about leaving your contact details, we believe that opting out of NHS Test and Trace is the right thing to do. This is because: